BANGFACE WEEKENDER CREW!

Line-up catch up - over 70 acts announced ;)

You must be logged in to see this link.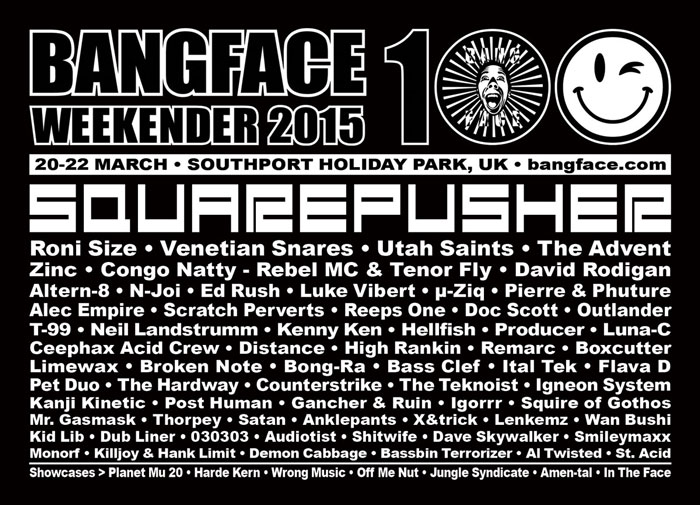 Squarepusher
Venetian Snares
Roni Size feat. Youngman (18 years DJ set)
David Rodigan
Zinc (Jungle / D&B set)
Congo Natty: Rebel MC, Tenor Fly, Congo Dubz
Utah Saints
The Advent
Ed Rush
Alec Empire
Luke Vibert
µ-Ziq
Reeps One (double world beatbox champ)
Scratch Perverts
N-Joi
Altern-8 - Mark Archer live / first new A8 tracks since '93!
DJ Pierre & Phuture
Ceephax Acid Crew
Outlander
T-99 (Olivier Abbeloos)
Hellfish
The DJ Producer
Doc Scott
Kenny Ken
Remarc
Distance
Broken Note
High Rankin
Neil Landstrumm
The Hardway
Ital Tek
Boxcutter
Pet Duo
Igneon System
Gancher & Ruin
Counterstrike
Bong-Ra Limewax
Igorrr
Satan
Flava D
Bass Clef
Kanji Kinetic & Thorpey
Anklepants
The Teknoist
Shitwife (Ladyscraper live band)
Mr. Gasmask
Post Human
Squire of Gothos, Phatworld & Spongebob Squarewave
Luna-C
Wan Bushi
Audiotist
Kid Lib
Dub Liner
X&trick
030303
Lenkemz
Smileymaxx
Dave Skywalker
Killjoy & Hank Limit
Demon Cabbage
Al Twisted
Bassbin Terrorizer & Moodyboy
Monorf
Saint Acid & The Bang Face Hard Crew

Plus Showcases from:
Planet Mu 20 years
Wrong Music Disco
Harde Kern Takeover
Hard Crew Heroes
Off Me Nut
Jungle Syndicate
Amen-tal
In The Face

* Venues, activities & bonuses announced *
BFTV / Pool Party / Inflataland returns! + loads more...

info & tickets > You must be logged in to see this link.
spread the word > You must be logged in to see this link.

Plus this year's theme is Computer Games!